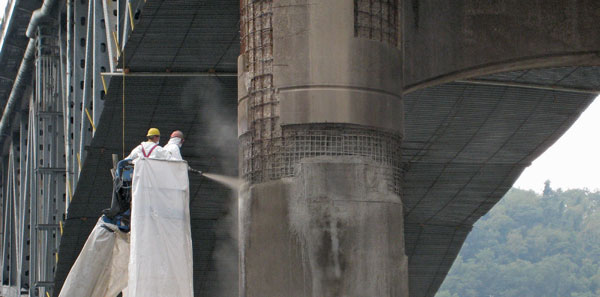 Repair and restoration of concrete is one of the fastest growing segments of the construction industry. This growth is not restricted to infrastructure, but extends to the private and industrial sectors. From tanks and pools, to chemical and automotive, to retaining walls and highway structures, the opportunities are endless. Shotcreting is often the best alternative when repair and restoration are being contemplated, and can be the ideal application method for both reinforced and non-reinforced construction.
The process is not simple by any means, and the shotcrete professional must be able to integrate new materials with in-place construction to form a composite that will stand up to exposure and use. As important as the materials is the coordination of effort from the contractor, materials supplier, engineer, and architect. When all of these pieces are in place, the project can be completed on budget and within expected performance guidelines.
The shotcrete process has been used for repair and installation of new linings in industrial melting and firing facilities since 1915.
The relining of blast furnaces, ladles, and casting facilities, as well as petroleum and cement producing plants, are some of the applications that employ both wet- and dry-process shotcreting of specialty, heat-resistant materials. The shotcreting process allows for new installations during down time, and "hot" installation of certain materials as a routine part of the production cycle — another advantage of this unique concrete construction method.