More than a century of history

T
he first steps in the development of shotcrete were taken nearly a century ago. Since then, countless structures have been built, restored, and reinforced using this unique concrete placing method.
The invention of "spraying concrete and mortar onto a surface at high velocity" in 1907 is credited to well-known naturalist Dr. Carl E. Akely. The machine (and process) was introduced at the Cement Show, in Madison Square Garden, N.Y., in 1910. Patents on the equipment and method were granted in 1911, and the process immediately became popular in the industry.
Soon after the issue of patents and registration of the term "Gunite," the creation of the Cement Gun Company (now called Allentown Equipment), allowed widespread use of the technology. Related companies were formed in various parts of the world and "Gunite" grew rapidly from 1912 through the 1930s. It was during this time when coarse aggregate mixtures were applied with the Cement Gun that the American Railway Engineers introduced the term "shotcrete" to describe the process.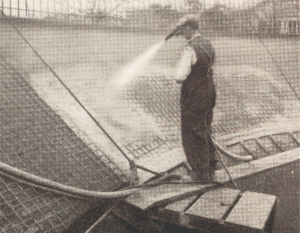 After World War II, the use of "Gunite" continued to grow rapidly as new technology was developed. In the 1950s, the creation of the Gunite Contractors Association, the introduction of the rotary gun for dry-process shotcrete, and the first use of the wet process provided new and expanded opportunities. A significant step during this period was the formation of ACI Committee 506, and the publication of valuable documents, such as SP-14, Shotcreting, to assist the industry in understanding the requirements for quality shotcrete construction.
During the 1970s, technical advancements in materials and equipment brought marked improvements to uses for shotcrete construction. Silica fume was introduced to impart new properties to concrete that improved its use for ground support. The Engineering Foundation organized the first conference for "The Use of Shotcrete for Underground Support." Perhaps the most significant step in this period was the development of efficient concrete pumps that could be used for wet shotcrete application.
In the 1980s, admixtures were developed to provide almost total control of consistency, hydration, and in-place performance of wet shotcrete. Packaging of dry shotcrete materials and admixture developments, such as air entraining for dry shotcrete, also enhanced the performance of the dry process. The introduction of steel fibers provided the possibilities of integral reinforcement to meet specific requirements for structural repairs and underground support applications.
During these years, the progress in the method of shotcreting has been the result of practitioners who both investigated and evaluated the performance of materials for shotcrete. Recently, because of the relationship between the industry and the research community, developments in shotcrete have increased dramatically, and many qualities of the process have been improved.